[private role="visitor-only"]Sorry, this Post is only for Contributors eyes[/private][private role="subscriber-only"]Sorry, this Post is only for Contributors eyes[/private]
[private role="contributor"]
How to edit your personal information
Look at the top of the site page; you should be able to see a black bar. Click on your username, on the right side of this black bar, and a menu will appear: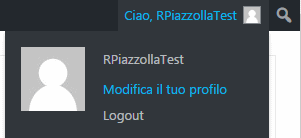 Click on the Edit my profile menu item.
Wait a minute, I don't see any black bar!
Ok, that's possible if you disabled it. In this case, just click on this link, and you'll enter the Edit my profile page anyway.
I see a lot of choices here. Can you explain them?
Sure! The Profile page is divided into sections.
This is the official documentation of the User Profile, but if you only want a list of the useful options, here it is.
Personal Options
| | |
| --- | --- |
| Visual Editor | If checked, the visual editor usually used when you write a Post is no more available. In this case, you can only edit a post using the HTML language. It's better to leave this flag always unchecked. |
| Toolbar | If unchecked, the black bar on the top of every page in the Europrivacy site is no more available. In this case, you won't be able to open your Profile page anymore, unless you use the direct url: https://blog.europrivacy.org/wp-admin/profile.php?lang=en . It's better to leave this flag always checked. |
Name
| | |
| --- | --- |
| Username | This is your username. It can't be changed, sorry. |
| First Name | Your name. |
| Last Name | Your surname. |
| NickName | Do you have a Nickname you want to use? Write it here. If you don't write it, your username will be displayed instead. |
| Display name publicly as | This is how everyone will know you on the site, when you write something. You can choose to use your Name, Surname, both of them, your Nickname, or your Username. |
Contact Info
| | |
| --- | --- |
| Email | All users are required to list an e-mail address in their respective Profiles. The E-mail address must be unique for each user. Your blog will use this address to notify you of new comments to your posts and for other administrative purposes. This email won't be showed publicly in any page on this site. |
| Website | If you have a Website, write the URL here. |
| Other social sites | If you want, you can list here all your social links. |
About Yourself
| | |
| --- | --- |
| Biographical Info | Enter a short description or profile of yourself here. It will be shown on your personal page on the site. This is one example. |
| Profile Picture | If you already have a Gravatar account, you can use it here to add your profile picture. Otherwise, scroll down a bit to find another way to add your profile picture. |
Account Management
| | |
| --- | --- |
| New Password | You can click this button to generate a new password for the account. This will show you a new field with the generated password. If you choose to change this password, a checkbox will appear to confirm that you want to use a weak password. You can check this box to confirm that you want to use your own password instead of a secure one. |
| Log Out Everywhere Else | You can click this button to log out of other devices, such as your phone or a public computer. |
Extra Fields
| | |
| --- | --- |
| Agreements | 4 different checkboxes for the Agreement clauses. Here your can give your consent to the site to use your personal information. The first two agreement checkboxes have to be checked for you to be allowed to use this site. |
| My Avatar | You can upload your Avatar photo here. It has to be a square image, less than 1Mb in size. This will be used instead of the Gravatar one, if both are present |
| Phone Number | We kindly ask you to insert your phone number here. It will be never published on the site, but we will use it as a reference if we have to contact you (we will neve use it for advertising purposes). |
Translation Options
Please, leave this section alone! These are preconfigured functionalities, so they usually don't need to be personalized by the user.
Don't forget to click the Update Profile button at the end!
Well, I mean, if you changed something.
[/private]